Shopping Cart
Your Cart is Empty
There was an error with PayPal
Click here to try again
Thank you for your business!
You should be receiving an order confirmation from Paypal shortly.
Exit Shopping Cart
Edible Gifts * Candy Buffet & Dessert Stations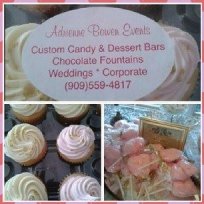 Ive been working with an amazing beautiful bride name Jessica that I have to say, is an event planner in the making.  Here are a few pictures of her Bridal Shower Decor...that she designed herself! Our cream cheese frosting cupcakes and cotton candy pops were a great addition to her dessert table.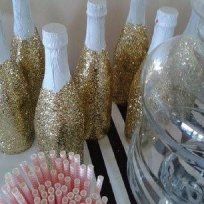 More Pics from the Purple Wedding!
The Bride was so impressed, she sent this nice email...I love my Job!
Date: Mar 14, 2012 10:51:54 PM
Subject: Diana & Tien Wedding
To:
Hi Adrienne! I am so sorry. I have been meaning to e-mail you, but I have been super swamped at work since it's busy season for me (income tax time).
I wanted to thank you for the wonderful dessert and candy buffets! I truly loved them. You came through and I have to admit, I was so surprised. First of all, I was so happy to see that you got me my strawberries!!! Thank you, thank you, thank you! I couldn't have imagined a more beautiful display. I got compliments for the two stations, from the deliciousness of the treats to the smallest details, like the organza bags. Everyone, including myself were blown away! The only complaint I got was that people didn't have enough time at the stations, which was totally my fault. As soon as the cake was cut, I saw people run over there, lol. Practically everyday up until the wedding, family and friends were stressing me out, making me question whether I really needed the dessert or candy buffet. But after the wedding, everyone, including my husband said it was worth every penny! Our family and friends were the ones that told my husband and I how great and popular the stations were, since we didn't have a chance to visit the stations (I was so bummed about that). Many have told us that they have never been to a wedding with a more beautiful display. I got photos from my photographer of the stations that I wanted to share with you. I truly wish you continued success Adrienne! Keep up the great work and thank you again for making my night an unforgettable one for my husband and I.
(Don't tell my florist, but your manzanita tree was more beautiful than the one she made for me)  =/
Love,
Diana
/